International Development Projects
Build Up Nepal is looking for mechanical engineer to work on site in Nepal!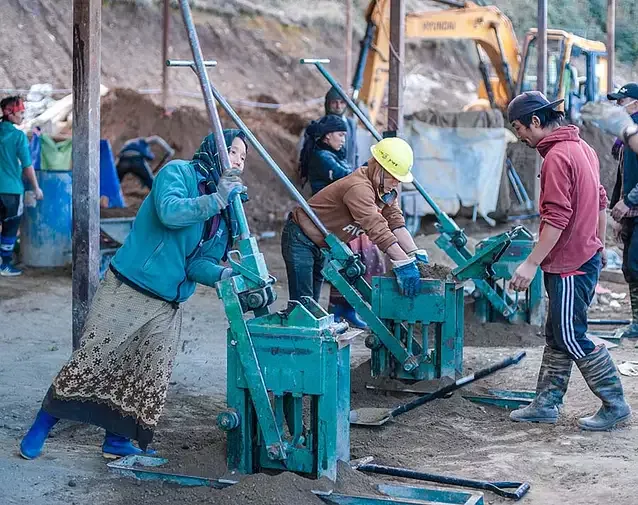 Build Up Nepal is looking for mechanical engineer to work on site in Kathmandu for one year!
Engineers Without Borders Sweden (EWB-SWE) is active both locally and internationally to solve engineering challenges related to inequality and global development. Through humanitarian engineering, we engage, inspire and unite people to build a sustainable future.
Context
EWB-SWE partners with Build Up Nepal to help vulnerable families in Nepal build safe, affordable homes in response to the devastating 2015 earthquake in Nepal. As an engineering organization, our focus has been to support them with mechanical and material engineering skills to improve housing quality and bricks making machines.
By using local materials, the CSEB bricks (compressed stabilized earth bricks) are significantly cheaper than conventional, carbon-intensive fired bricks. A critical goal at this time is to improve the brick material composition to further reduce the cost and environmental impact, while improving overall brick and housing quality.
This topic has already started to be investigated but we are in need of additional support and expertise from a small team who can work together with the existing team to improve the material and better control the durability of the CSEB bricks.
Learn more about our work in Nepal: https://www.ewb-swe.org/build-up-nepal / www.buildupnepal.com
Project and partnership description
EWB-SWE and Build Up Nepal recently signed a joint cooperation agreement with partners in the Australian Government giving us a unique opportunity to scale our operations with Build Up Nepal. We are currently looking for someone who can stay on site in Nepal approximately one year to deepen our relationship and impactful work in the region.
The project aims to improve the machinery and product development for Build Up Nepal. Our team in Nepal consists of engineers working with CAD, concept development and production management for example.
You will be based in Kathmandu together with the Build Up Nepal team. With help from our EWB team in Sweden and Build Up Nepal you will assist production to create prototypes, conduct testing of machines and also project lead the other EWB volunteers remotely. Be prepared to learn new tasks quickly and to get your hands dirty. We will arrange assistance with accommodation and travel to Nepal, you will also receive a monthly compensation to cover basic expenses.
The position
We are currently looking for someone the following competences:

Min 3 years industry experience
3D CAD design (preferably SolidWorks)
Experience of practically working in a factory/workshop
Knowledge of hydraulics is a big plus point
Ability to work in a multicultural team, experience from field work (particularly in Asia) is a plus
Mechanical engineering background to or equivalent to understand and assist team members in the project.
For all positions, you:
Have a strong interest in and knowledge in humanitarian engineering.

Previous experience to work for the non-profit sector and abroad is a plus.

Everyone is welcome to apply for this position, however, once you are accepted, you will have to become a member of EWB-SWE.
Conditions
Start:                                 During autumn 2022 or as soon as possible
Location:                         Kathmandu, Nepal (travels within Nepal)
Time requirement:   Around 40 hours per week, preferably during one year's time. Periods with free time for travels back to Sweden for example will of course be possible.
Terms:                               Travels, lodging and basic costs will be covered.
We are reviewing applications continuously. 
Please contact kathrine.hardmark@ewb-swe.org for any questions.
Thank you for helping us make an impact in Nepal!
*** 
Engineers Without Borders Sweden is promoting equality and inclusivity. We are strengthened by our differences. We encourage all qualified candidates to apply for the position, regardless of gender, age, ethnic background, religion, disability or sexual orientation.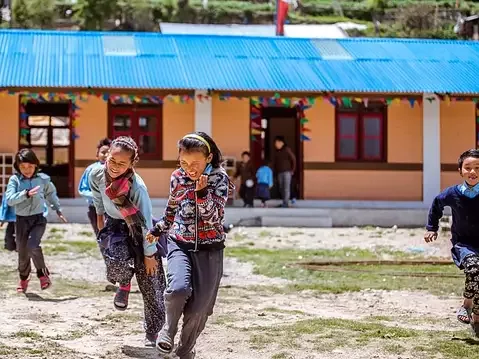 Join EWB-SWE
Volunteer

We have a passionate and experienced volunteer network of professionals and students who help make a difference and influence our work. Explore our volunteer opportunities and see how you can contribute with your range of skills, experience and knowledge directly into our activities. There is no requirement for an engineering degree, everyone is needed, and all are welcome.

Be part of inspiring children

Sweden currently has a shortage of engineers, a profession that historically has been a very homogenous group. Because of this, EWB-SWE inform and inspire children to seek an education in engineering or technology. This is accomplished by assisting students with their studies, acting as role-models, and showing a non-conventional perspective on science, technology and engineering.

Personal development

Develop your leadership and technology skills by participating in the seminars and activities we organize.

Be part of our network

By getting involved, you become part of an extensive network of talented people. We are not just engineers - everyone is needed, and everyone is welcome! We are located all over Sweden with our groups in 8 different cities.
EWB-SWE's network
We have a passionate and experienced volunteer network of professionals and students who help make a difference and influence our work. We are engineers, architects, scientists, educators, healthcare professionals, administrators and many others.
You can be active in projects, in the business or passive support. We collaborate with technical colleges and universities, with organizations and the business community.
About Engineers Without Borders Sweden
Engineers Without Borders Sweden works to address challenges linked to the Sustainable Development Goals, both in Sweden and around the globe. Through improvements in education, equality, energy poverty and access to water and sanitation we always strive to make a sustainable and long-term impact with our work, for local communities and the Earth as a whole.
International Development Projects
Build Up Nepal is looking for mechanical engineer to work on site in Nepal!
Loading application form
Already working at Engineers Without Borders Sweden?
Let's recruit together and find your next colleague.